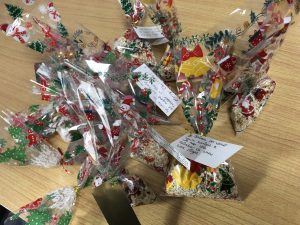 In the final week of term, students had a fun-filled day preparing for the Christmas Fayre on 16th December. Working in tutor groups, students made delicious hot chocolate cones and presented them in festive wrappers. Some students decorated jars of reindeer droppings and made magic reindeer food to sprinkle on lawns.
The next activity was to make wooden Christmas tree decorations which involved a lot of glue, glitter and patience!
This was followed by Christmas card and Christmas jumper designing, as well as crafting paper chains.
By the end of the school day, a wealth of bespoke festive paraphernalia had been created for the fayre on Parent Review Day.