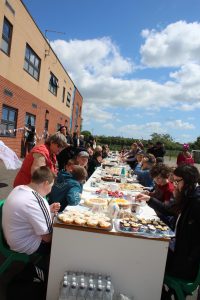 Friday's street party was certainly fit for a queen! It was a non-uniform day and party goers were encouraged to wear red, white or blue to mark the occasion. The bunting was flapping, spirits were high and the sun was actually smiling!
The jubilee outfits were modelled on the catwalk and there were some good old-fashioned sports events to engage the students. But the highlight of the afternoon was the party itself, when students tucked into the fruits of yesterday's labours. Cups of tea were served by Mr Brown who donned his best suit for the occasion.
It was a lovely afternoon and one that all participants will remember! It was our way of recognising our Queen's 70 years of dedicated service. Long may she reign!